I was working when I suddenly felt tremors, I thought it was just our dog Kulas who usually moves so much under my chair, but I was getting confuse and dizzy literally, it has been a few seconds and it did not stop. Then it hit me, earthquake! Shucks I ran outside at the same time people around me were shouting 'linog', 'lindol'. This Cebu earthquake today February 6 was really strong!!! Hoping there is no destruction or life lost casualties with this quake today. The last time I experienced earthquake I was still an elementary student. So yes, I was so so  scared.
When the earth stops shaking, I went back to work and read all these fb shoutouts about the earthquake that hit Cebu today. Apparently, it also covers a wide area as friends from Iloilo also reported strong quake that lasted long. News reports are in – Epicenter is 72km north of Dumaguete, 6.8 magnitude quake and reaches as far as Iloilo, Roxas, Capiz, Antique, Butuan, Legazpi and more Visayas area. (USGS updated the magnitude to only 6.7 after an hour). Phivolcs classified the earthquake that hit as Tectonic Earthquake.
Sidenote: But another apparent thing was that a lot of people posted Facebook shoutouts  and Twitter posts immediately and even while the earthquake was ongoing instead of looking for open spaces or hiding under sturdy chairs and tables?
Anyhow, I am still a bit scared of after shocks since we live near the sea!
This US Geological Survey website reported about the strong earthquake that hit Cebu, Negros, Bohol and other areas:
6.8 Earthquake Hits Cebu, Negros, Visayas Area
Praying and hoping there is no destruction wherever here in the Philippines with this February 6,2012 earthquake. Everyone here is still waiting for news about the earthquake and trying to contact family members. Dumaguete  City experienced the strongest earthquake at intensity 7. There are 13 casualties reported in Negros Oriental already and some more people are missing from the landslide, so sad…
Watching news on GMA News TV now 12:32 noon : East coast of Negros and West Coast of Cebu on Tsunami Alert 2. No evacuation since tsunami alert is only no 2 but everyone is advise to stay away from the shoreline. Alert No 2 means no destructive waves expected and hence, no force evacuation. If after 2 hours no report is received by Phivolcs and government authority, the tsunami alert will be lifted.
UPDATE: 1pm - The US Geological Survey has lowered the earthquake from 6.8 magnitude to Magnitude 6.7.
UPDATE 3pm -  TSUNAMI ALERT HAS BEEN LIFTED BY PHIVOLCS per the breaking news of GMA NEWS TV.  Inalis na ng Phivolcs ang tsunami alert for Cebu and Negros.
UPDATE 6:20pm – Just felt another earthquake but weaker compared to earlier this noon. Lots of FB updates too of friends in Cebu and other areas who felt the newest tremors. When will these Cebu aftershocks stop?
Map Photo: Area scope by the Feb 6 Earthquake Intensity Map from USGS
If you have family and friends in Visayas please contact them just to assure yourself that everyone is okay.
Cebu and Negros Earthquake 2012 Update
As of the evening of Feb. 6, 2012, there are 13 casualties of the earthquake that has been reported in Negros Oriental. 40 persons are also missing. Some towns in Negros Oriental are also experiencing "Brown Outs" or power interruptions.
Update February 7, 2012: The towns of Tayasan, La Liberted and Guihulungan in Negros Oriental suffered the most damage from the quake with human casualties, huge road cracks, unpassable bridges and some buildings collapsed, and worst landslide that covered a barrio in La Libertad :/
Photo of Earthquake Result in Negros Oriental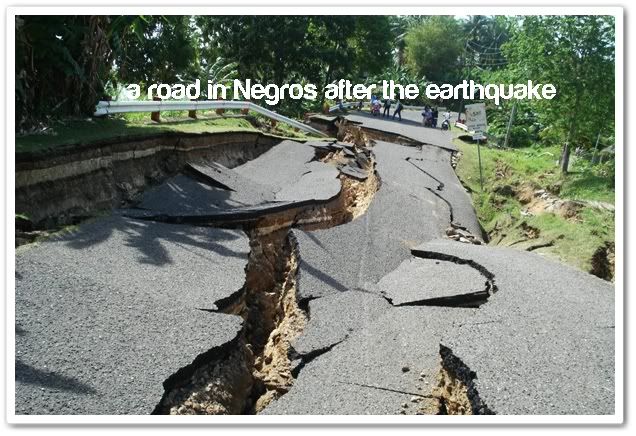 ==========================================
UPDATE October 15, 2013:
Earthquake Bohol – Cebu, check this NEW POST.
Thanks for reading! If you like this post or find it useful, please Share It on Facebook, Twitter or Google+. Express your thoughts and leave a comment below.
To get alerts of new posts, please follow
Penfires on Facebook
=) Salamat!