I am a big fan of dimsums and chili oil. 
My favorite selections from Chinese restaurant dimsum menu are siomai (of course), shanghai rolls and pork steamed rice. So when I  was invited to the inauguration of Chow City Cebu Restaurant in The Walk IT Park I did not think twice but said yes! And thankfully I did for this Cebu resto offers yummy Chinese food at pocket friendly prices.
For those who frequents Asiatown IT Park in Salinas Drive Lahug you may have noticed that the restaurant occupying what is now Chow City used to be Makan Asian Spices which served Asian Cuisine particularly Thai, Malay and Singaporean. Later on the partners who owned and managed this Cebu resto decided to concentrate on Chinese Food and Dimsum as the Cebuano Market simply love to eat Chinese Foods over other Asian specialty cuisine. This realization gave birth to Chow City.
A Feast of Dimsum!
Most of their dimsum selections are priced at P55 per serving which  includes bestsellers like steamed rice, siomai, empress roll, chicken feet etc while the dimsum platter only cost P135. You can also order ala carte for Chinese dishes like Patatim with kua pao (P180), Mixed Seafood in x.o. sauce (P190), Sweet and Sour Chicken at P165, Cantonese Noodle at P145 to name a few.
Dimsum Platter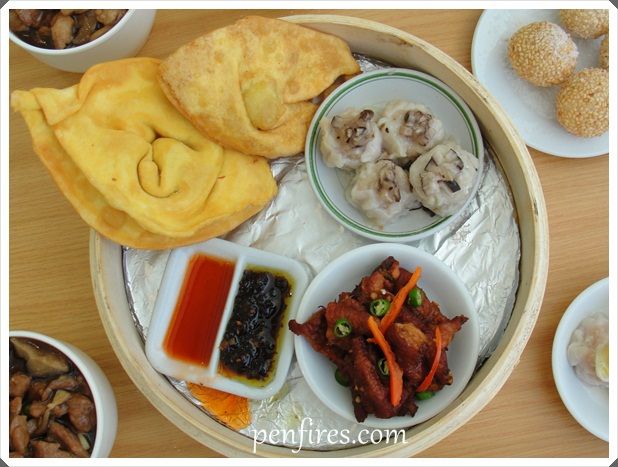 Please correct me if I am wrong but as far as I remember steamed rice is not offered in Manila, at least the steamed rice that we Cebuanos have grown up with. If you are first timer here in Cebu, hope you'll try out our version of steamed rice. It's different from rice – toppings.  I really love steamed rice, in fact when I was a typical college student with little to no money, I always try to save for steamed rice.
The special blend of secret sauce and your choice of tender meat and well cooked rice that's mixed perfectly – it's fast, easy, yummy and one very satisfying meal.
Cebu's Favorite Steamed Rice – Pork, Beef (not in pic) and Chicken
Aside from having a wide varieties of Chinese dishes, Chow City also offer pinoy pulutan viands like Sisig  and Gambas, as you know these are perennial favorites that goes well with your beers. You can go straight from dinner to just plain chillin with your friends and colleagues. 
Snack or Desert? I highly recommend their buchi ube and fried siopao with humba fillings. The buchi is not oily at all and the ube filling so yum! I also love their fried siopao with humba!
Buchi Ube Love
Try something good like Fried Siopao with Humba Fillings
Feast Your Eyes on these dim sum choices.  :)
Are you hungry yet? Hehehe.  Above are images of some of Cebu's Chow City bestsellers . In order of the dim sum pics:  Siomai Bacon, Hakaw, Shrimp Sio-mai, Siomai Quail Egg, Spring Roll, Fried Wanton and Chicken Feet.All photos of dim-sum picks above are at P55 except for hakaw which is P60 per serving.
Chow City did not survive the Cebu Market, they are now closed.
Their old location in IT Park is now home a Zubuchon Branch.
Thanks for reading! If you like this post or find it useful, please Share It on Facebook, Twitter or Google+. Express your thoughts and leave a comment below.
To get alerts of new posts, please follow
Penfires on Facebook
=) Salamat!