There are many foods identified with major celebrations and occasions, for the Americans it's turkey for Thanksgiving, for the Filipinos it's the Christmas Ham for Christmas and Pancit or noodle variations for Birthdays. In our clan, there's always Binigbit for Good Friday.
Yep aside from all the religious observance and traditions that we look forward to for the Holy Week, me, cousins, aunts, uncles and the whole extended family always look forward to the Binignit that my Lolo and Lola makes. Every household pitches in in terms of ingredients and helps with the dicing, grating etc.  My contributions were taking photos of the ingredients for posterity's sake hehhehe 
Binignit is a Filipino delicacy that is favored mostly by Visayans or Bisaya especially Cebuanos. This very Pinoy dish is a cornucopia of  earth's produce which includes rootcrops gabi (taro), violet and yellow camote (sweet potato), cardaba saging (plantain banana), coconut milk, brown sugar (central), sago and landang from processed palm tree fruits or 'buli'.
I think the closest version of the Tagalogs is their 'ginataang bola – bola' but there are mark differences with the Bisaya Binignit. (Update: a Tagalog friend said it's 'ginatang bilo – bilo' not 'bola – bola' hehehhe) But puede na din- same coconut! 
Wondering what to eat for Holy Week? Have binignit! Definitely no meat in proper observance of this religious occasion.
And the taste? Lami! Delicious! Just look at the photo below of our cooked binignit!
Binignit Popular Filipino Food for Good Friday
The tradition of having Binignit is not unique to our clan, since yesterday I've read lots of shoutouts in Facebook about someone having binignit or biko and other kakanins. This Filipino native delicacy is really popular during the Holy Week, Good Friday to be more specific.
Binignit is one of those foods that brings back memories of childhood, I clearly remember me and my cousins will exchange sago colors eventhough there is only one flavor for all the sago balls, ahhh kids hehe. Gabi and sago are my favorite ingredients for this Filipino food.
Be careful when eating newly cooked binignit as it can burn your tongue.
Cooking and Stirring the Binignit 'stew' 
*notice the laddle – it's plain bamboo lol old skol and native 
What are the Binignit Ingredients?
Here is a list of ingredients for the binignit that my Lola is cooking right now for Good Friday salo-salo. Again, some family adds or subtracts ingredients depending on taste and preference.
2 large coconuts – the meat to be grated
1 kilo of brown sugar – popularly known here as 'central sugar'
2 gabi – or 'taro' (diced or cubed)
2 kilos of kamote – preferably yellow and violet variants, diced or cubed
2 kilos of saging  of the cardaba variety (plantain banana) , diced
2 cups of landang
8 packs of sago
** Kids love the sago and always look for these colorful balls in the binignit hence we always have more than the usual.
Colorful Sago for Kids and Kids at Heart!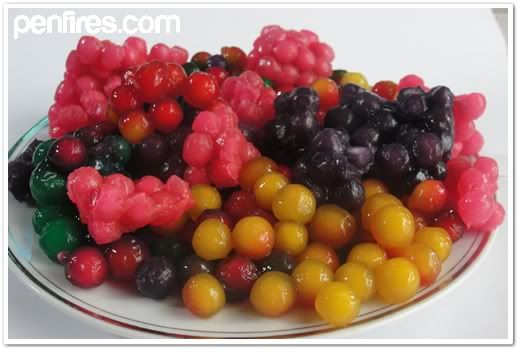 How to Cook Filipino Food – Binignit?
This recipe for this pinoy delicacy is based on what my Lolo uses, other households may be using a variation for the binignit recipe.
A. For the coconut milk or tuno in Cebuano
1. Prepare 1 liter of water
2. Grate the coconut meat (you can have this done in the market for a minimal fee but if you have 'kudkuran' in your house you can do it yourself).
3. Pour the water to the coconut meat.
4. Mash, squeeze the mixture.
5. Strain the tuno or milk from the meat/water mixture. You will not be using the  'sapal' or the byproduct of this procedure.
6. Leave for later.
Traditional grating of coconut meat using 'kudkuran'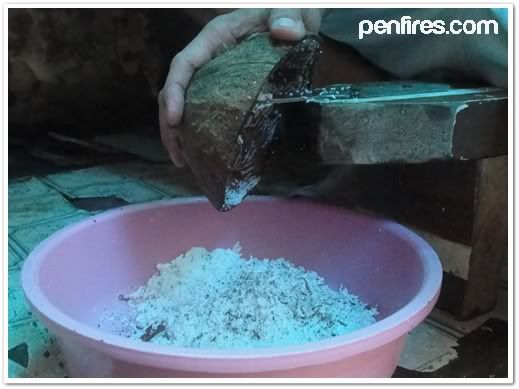 B. Cooking the Binignit
Very Important:
Stir the stew constantly as you cook to avoid dukot
or tutong settling in the bottom and that un-appetizing 'burnt' smell.
1. Boil 3 liters of water in a big pot.
2. Once it is boiling, pour in the gabi (Gabi is the hardest ingredients so it goes first.)
3.  After about 3 minutes, mix in the landang.
4. Bring to boil.
5. Next you put in the saging or ripe banana. (Remember this is not saging latundan)
6.  After 3 minutes, put the kamote in the pot.
7. Check the camote if halfway tender. You can also check if the gabi is already tender too.
8.  Then place all the sago into the mixture.
9.  Pour all the sugar (you can adjust the amount of brown sugar depending on how sweet you want the binignit to be.)
10. Finally mix in the tuno or  coconut milk and bring to boil.
Photos of the Ingredients for Binignit
That's it, easy pansy and you have steaming hot binignit ready for the family salo-salo.  Lami kaayo! Manga-on ta!
Hot Hot Binignit!
Can't resist to update this today March 27, 2013 – Holy Wednesday - a snapshot of Twitterverse for the term "binignit". Expect Twitter, Instagram, Facebook to be loaded with pics related to this favorite Pinoy food.  :mrgreen:
*I hope these netizens doesn't mind me posting a snapshot of their tweets with their names.
BINIGNIT is REALLY BIG during HOLY WEEK!
Please share this post on FB or Tweet it for those who who miss home and the simple but delicious binignit!
Thanks for reading! If you like this post or find it useful, please Share It on Facebook, Twitter or Google+. Express your thoughts and leave a comment below.
To get alerts of new posts, please follow
Penfires on Facebook
=) Salamat!